As you choose your new domain name, you might find that the domain you want is not available. It's kind of a common thing...there are other people in the world who have businesses or names that are the same as yours. Finding something unique can be a challenge, but if another person has the domain you want, are you out of luck? Do they "legitimately" own the domain...using it for a legitimate business, or did they buy it just to sit on it and make some money? That's called cybersquatting, and it's illegal.
what is cybersquatting?
In the traditional model, you would go directly to a reseller like GoDaddy and purchase a domain. It might cost you $10 or less to purchase the domain, which you pay directly to GoDaddy. There is an annual fee to renew the domain. You might also purchase hosting, which is basically paying GoDaddy "rent" to host your website, which is a monthly or annual fee.
However, in this new model, the domain you might want may be owned by a middleman who gets the domain at a reduced price from GoDaddy (or other provider), then resells it to you at a much higher price. Since they buy these domains in bulk, they get significantly reduced pricing that's not available to you. These "domain name reseller" companies might have hundreds...but in some cases millions...of domain names that they are sitting on. That's the polite name. They are CYBERSQUATTERS.
Why are they doing this? It's kinda like land speculation. They are placing a bet, hoping that someone will pay them a lot of money for a domain. How much? The highest domain name sold to date is insurance.com, at $35.6 million. sex.com sold for $14 million. hotels.com sold for $11 million in 2001. Of course your artist domain name is not that valuable to them, but if they sell enough domains at $500-5,000, they'll make money.
searching the domain name
How do you find out who owns it? You can use a tool called Whois to find out the underlying owner information. Each domain name reseller has a Whois feature, or you can click here to go to Network Solutions' Whois search page.
A word of warning...NEVER go to a site and search a lot of domains without being ready to purchase. Have a credit card ready, and if the domain is available, purchase it IMMEDIATELY.
These domain name resellers are watching. I won't go into the technical details, but if you search a domain name over and over, they will know. If you search for a domain name, and don't purchase it, they can jump in and purchase it out from under you...something called domain "frontrunning." Then they will offer it back to you at an inflated price. One artist domain I'm familiar with was listed for $2,795.
So if you are interested in a domain, BUY IT. Even if you buy it and don't ever use it, It's a $10 insurance policy. You can always let it go later.
who owns the domain?
When you go to a website provider...companies like GoDaddy, Domain.com, Bluehost...you can enter your desired domain name to see if it is available on the main page.
In the examples below, you can see that entering "glasskats.com" returns a response that says "Sorry, glasskats.com is taken" in small text (I actually own this domain, but used it as an example). This means that an individual or small domain name reseller owns the domain. The majority of domain name resellers will provide alternates for you to choose from. In this example, in orange text it shows that "glass-kats.com" is available!" (Just FYI...hyphenated domain names are less desirable...)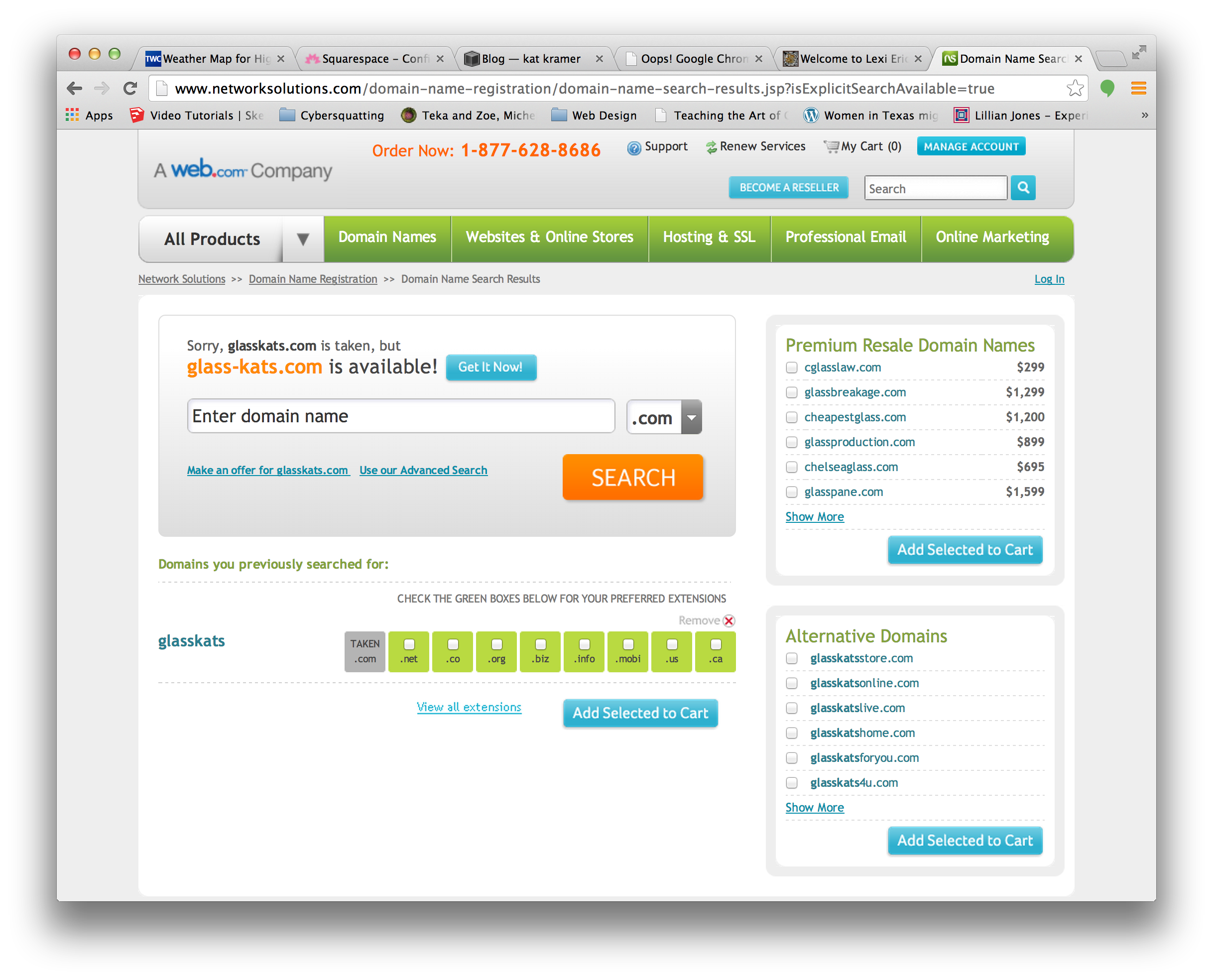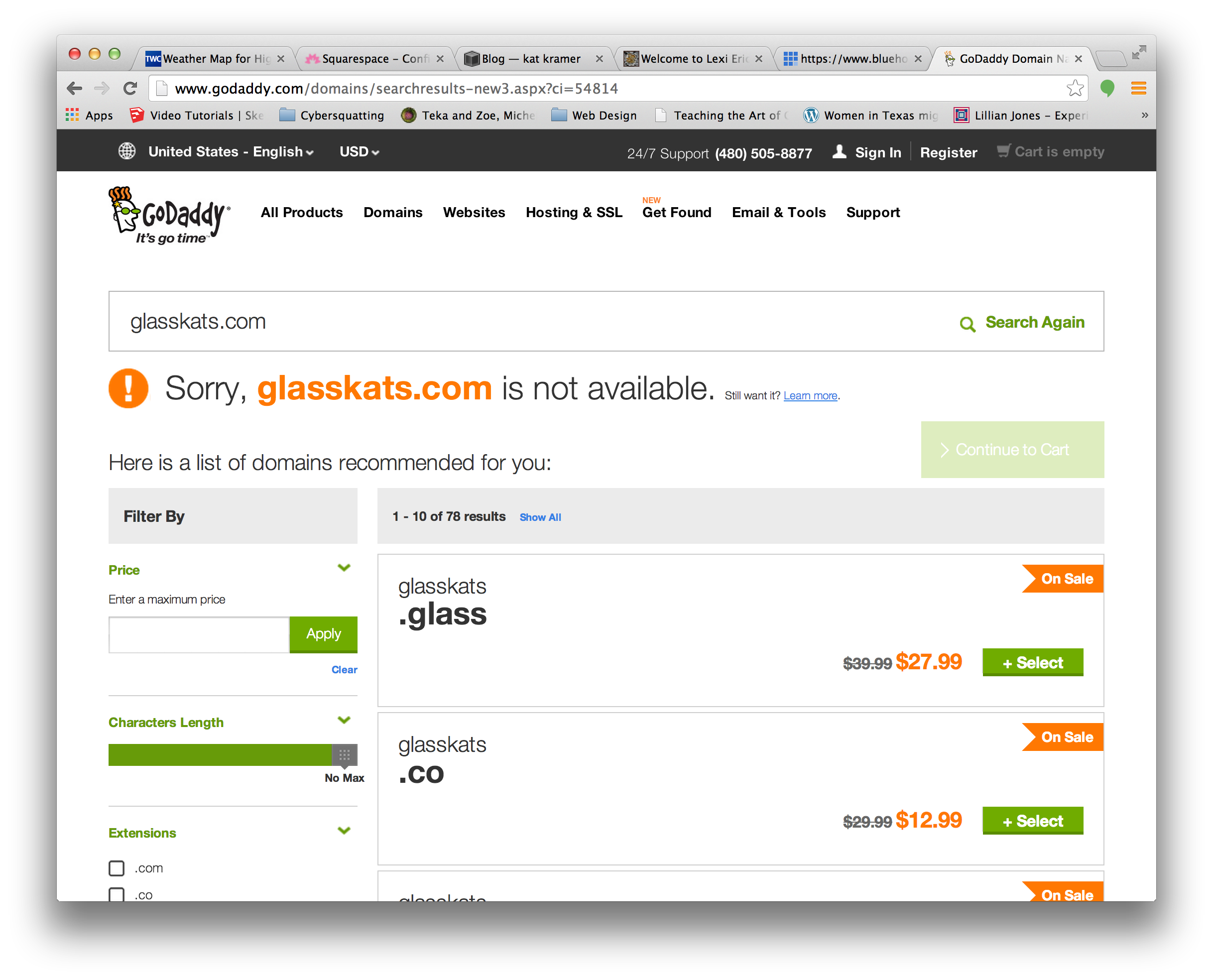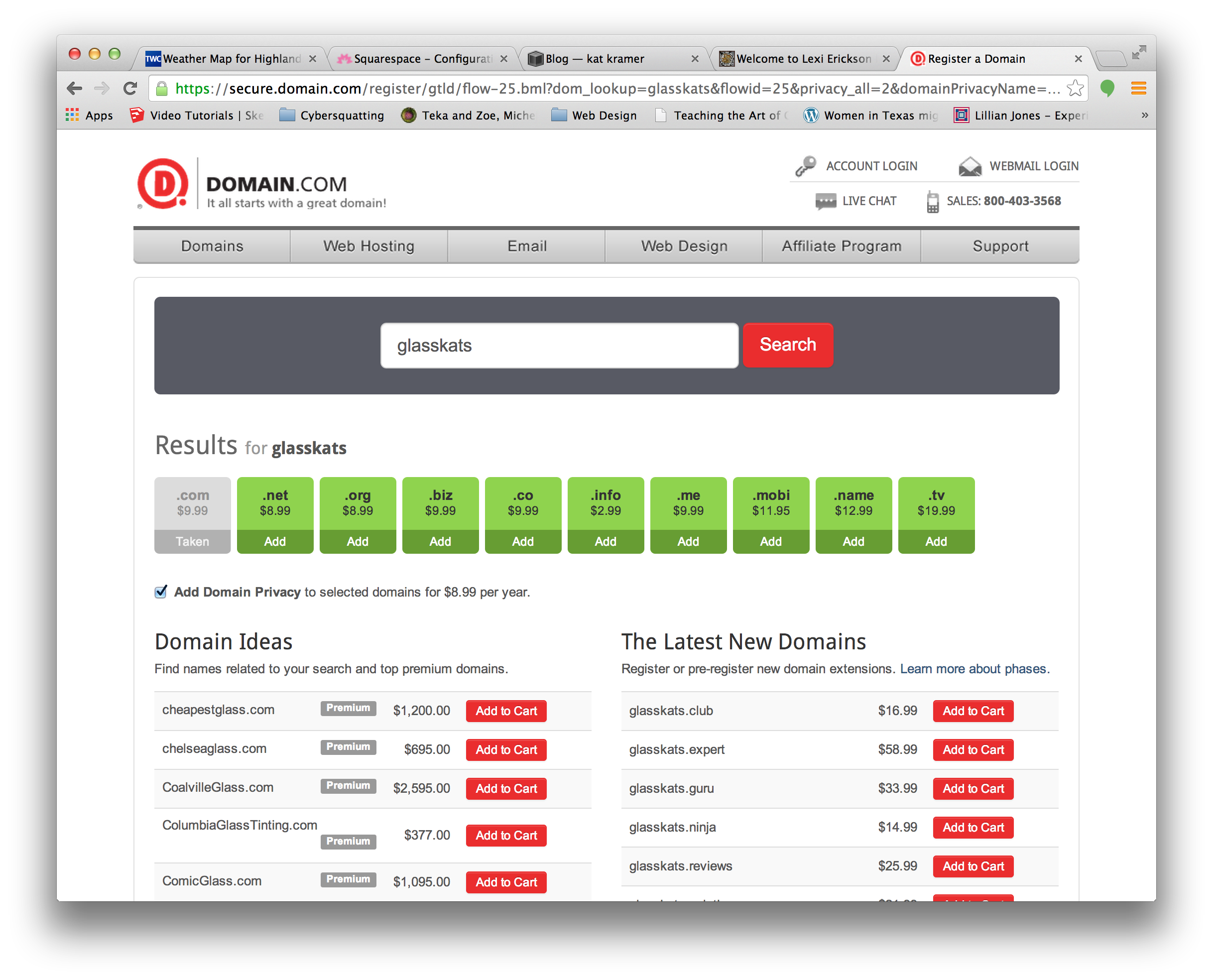 So it's owned by someone. Chances are, an individual won't want to give or sell the name to you, but if you go to the domain and there's not a site on it, you can try. A couple of things you can do:
Do some research to find out who owns the domain and contact them directly to see if they're interested in selling...try using the Whois function to find out who owns the domain.
Use the domain reseller as an intermediary to make an offer (this will cost you more money). See the "Still want it?" or "Make an offer" links above.
If a small domain name reseller owns it, they might sell it to you for a few hundred dollars or less. However, if it's a larger reseller, that's probably not going to happen.
a domain owned by large "reseller" (cybersquatter)
But let's take a look at another search on GoDaddy. Let's search "bradhouston.com." You'll notice something significantly different is returned.
Notice the $695 price and the black box next to the domain name that says Premium. This is a domain name that's currently owned by a large "domain name reseller" who is trying to make money. In fact, $695 is a LOW price for one of these resellers.
So how much does it cost to buy a domain under "normal" circumstances? My last domains cost me $0.99 each. Generally, GoDaddy prices are under $10 for a domain, but I always use a coupon or promo code to get the price down...they run frequent promotions. I added Privacy Protection to my domains, and the total bill was $9.16. A BIG difference than $695. Or $1,795. Or $2,795. What the heck is going on?
The answer is something they call the "secondary domain name market." In other words, those pesky domain name resellers. Basically, when domains expire, there are companies that buy up the expired domains, or other domains that they think might be valuable, and they "cybersquat." Some companies are out there that own over a million domains...sitting and waiting until someone tries to register the domain, then they try to sell the domain to them at exorbitant prices. In some cases, you might even be contacted by these domain name resellers and they'll try to sell you the domain.
Is this fair?
federal anti-cybersquatting consumer protection act of 1999
The answer is no. It's not fair. And in 1999 there was a piece of legislation passed that made it illegal to buy domain names that you don't have a legitimate business interest in. The majority of these companies are in violation of the federal law, but there are relatively few things that can be done. One problem is that the ACPA is a federal law, so any court case would normally have to go through a federal court. The other option is to file a "UDRP" complaint through ICANN. The fee just to file a complaint is $1500.
However, these cybersquatters have priced the domains around what it would cost to file a complaint. Navigating the system or hiring a lawyer is something most small business owners or artists can't do. Most people just suck it up and pay the price.
Can anything be done? Yes. I'll cover that here in a bit.
Let's say that money is no issue, and you've decided to take a cybersquatter to court, there are "tests" to prove that the cybersquatter has a legitimate business interest:
The domain name is identical, or confusingly similar, to a trademark or service mark in which the complainant has rights;
The respondent has no rights or legitimate interests in respect of the domain name; and
The domain name has been registered and is being used in bad faith.
In determining whether the domain name registrant has a bad faith intent to profit, a court may consider many factors regarding the domain name registrant, including nine that are outlined in the statute (from Wikipedia):
Registrant's trademark or other intellectual property rights in the domain name;
Whether the domain name contains the registrant's legal or common name;
Registrant's prior use of the domain name in connection with the bona fide offering of goods or services;
Registrant's bona fide noncommercial or fair use of the mark in a site accessible by the domain name;
Registrant's intent to divert customers from the mark owner's online location that could harm the goodwill represented by the mark, for commercial gain or with the intent to tarnish or disparage the mark;
Registrant's offer to transfer, sell, or otherwise assign the domain name to the mark owner or a third party for financial gain, without having used the mark in a legitimate site;
Registrant's providing misleading false contact information when applying for registration of the domain name;
Registrant's registration or acquisition of multiple domain names that are identical or confusingly similar to marks of others; and
Extent to which the mark in the domain is distinctive or famous.
Chances are, they are in violation of these factors. Have you used the name/domain name in a professional setting? If you have...if you have printed business cards or have any marketing materials with the name, you most likely can claim a "common law" trademark or the domain name might contain your intellectual property. Secondly, if it's your name, then you have another advantage. Number 2 on the list above asks if the domain name contains the REGISTRANT'S NAME. If a domain name reseller is sitting on "bradhouston.com," unless one of the owners of the company is named Brad Houston, then they are in violation. In number 3, the registrant would have to use the domain name in the "bona fide" offering of goods and services.
This is where it can get a little sticky. Some of the domain name registrants are claiming that in trying to resell a domain, they are offering a "bona fide good or service." That was not the original intent of the Cybersquatting Act. On the BBB complaints of a major domain name reseller, you'll see snarky comments to complainants that they "don't understand the secondary domain name market" and that the registrar claims to have an equally legitimate interest in the domain...to sell it and make money. They'll also claim that the cybersquatting act was only put in place to protect "famous people and trademarks," and that it doesn't apply to you. Interestingly, right in the title, it says "Federal Anti-Cybersquatting Consumer Protection Act."
In number 6, if the registrant has offered to transfer, sell, or assign the domain name to someone without having used it in a legitimate site, then they are in violation. If they have contacted you to sell you the domain, this is even more proof. Here's an example of bradhouston.com that clearly is offering the domain name for sale.
In item 7, you might find a technicality you can use to fight a cybersquatter...many domain name resellers won't put contact information that's correct on the registration, which is a violation of the internet rules. In one case I'm familiar with, the domain name reseller never returned emails or answered phone calls, so the case could be made that they didn't provide correct contact information. They had also moved to a new location and hadn't bothered to change their address, which is another violation.
If you're interested in seeing an article about a successful case against a cybersquatter, click here.
so what can be done?
Chances are, you don't have a lot of money to fight this. But you CAN file a small claims lawsuit in the court in which the company resides. However, you can't file a case under the "Federal Anti-Cybersquatting Act." That's not the right jurisdiction...it's federal. But what you can do is to file a small claims lawsuit for "theft of intellectual property." The easiest one to fight is a domain name that includes your name, especially if you've been using it for your business. Otherwise, you could file it for another business name, but you would need documentation showing that you'd used that name. Do you have art show applications? Business cards? The invoices when you had those business cards made? A bank account or DBA?
There are limited amounts that you can sue for...chances are, you just want the domain. To file is probably around $60. A lawyer would be helpful, but you have a good case if you present the facts to a judge. Their company might also hire a lawyer to fight you, but it is possible to do it yourself. And sometimes just the threat of suing them is enough to make them back down and realize that you actually do have a case against them.
in conclusion
So what you decide to do is up to you. The easier alternative is to choose another domain name. But if you are able to file a small claims lawsuit against the company that's cybersquatting, and you have the energy to fight, it may be possible to obtain the domain name that you want.